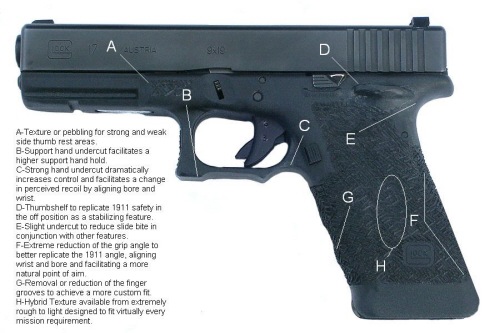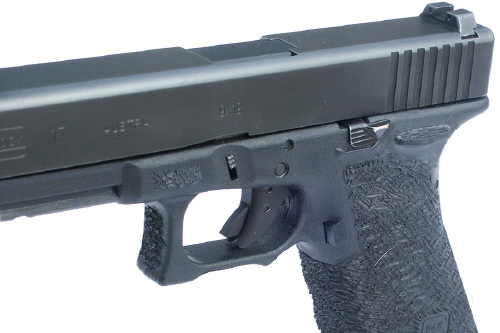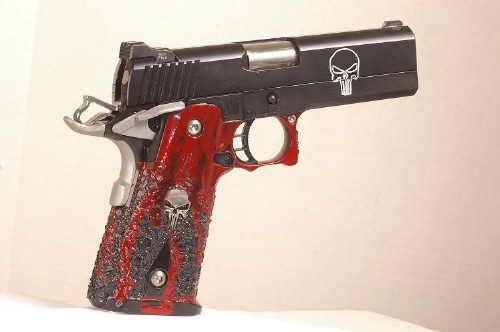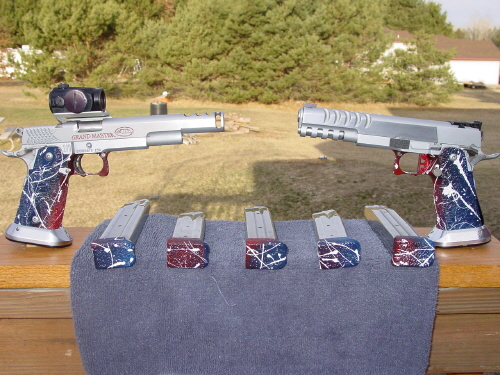 What's in a Grip?  In 1998 and new as a competitor in USPSA and Steel Challenge shooting events, I realized the importance of a good grip.  No matter the type of firearm, a proper grip really forms the bond with shooter and firearm.  There were a couple of companies doing a little bit of polymer grip work but especially when it came to STI/SV and Glock grips, most of the work was really little more than cosmetic enhancement.  We started experimenting with several varying degrees of texture as well as technique to create those textures.  Early in 1999, we started our commercial endeavor to enhance shooting performance by improving the interface between shooter and firearm.  Our STI/SV original grip enhancements were born.  Literally thousands of grips later, many with custom paint faded from one to another color.
We pioneered what is now commonly termed the "Double Undercut" and virtually every grip modification on STI/SV firearms makes these cuts as either a standard or optional offering.  Higher into the grip more comfortably was our goal when we started into that area.  There is no doubt our efforts developing that concept have helped countless shooters control recoil better and enhance the overall shooting performance.
Soon after our STI/SV grip mods became commonplace in the competitive shooting circles, we were asked to do the same with Glocks.  Several companies had been working on the Glock frame for some time already but most were using some form of a truck bed liner or similar material as a final step in the grip enhancement.  We very quickly introduced our double undercut concept to the Glock frame and set out as the first modifier to offer commercially our stippled grip packages.  Now that market as well has many companies following in our footsteps.
A good friend of ours while working for H&K asked if we could offer improvements to that frame for the H&K Custom shop.  We did and now it is easy to see our influence in several of the H&K line of polymer pistol frames.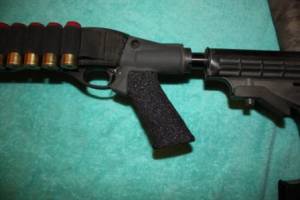 In 2010 we were approached at SHOT about developing a grip treatment for AR platform rifles.  The requestor needed a grip impervious to solvents, waterproof and non-slip.  There were a couple companies that had played around with silicon carbide and super glue or epoxy type adhesives but these all failed the "impervious to solvents" requirement.   Working with several companies in and outside of the industry we spent almost 2 years fully developing our "Special Operations Combat Diver Grip".  Our grip proved to be so successful for that platform it very quickly carried over into our other lines and our SRT 2 grip for STI/SV firearms as well as our mods for Glocks and other polymer framed pistols.
Our influence both functionally as well as cosmetically can be seen all over the industry, from custom shops to major companies.  A great shooter, coupled with a great firearm deserves a great grip to complete the interface.  Many of our products are available new as well as enhancements to existing customer grips and grip platforms.