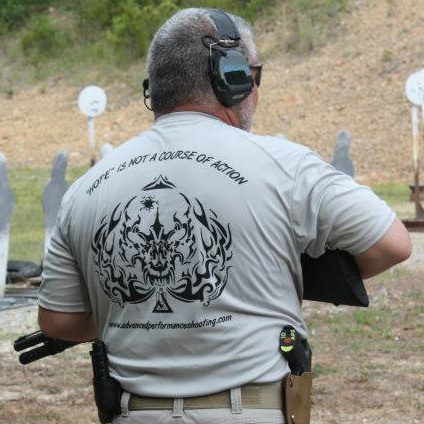 Jim Shanahan
What does it take to be a "Firearms Instructor"?  That's a pretty tough question to answer.  A "professional instructor" is built over time, they aren't born.  A "professional instructor" never stops learning and remains a constant student.  A "professional instructor" has earned that title over many years of training and teaching.
Certainly great instructors have many varying backgrounds.  Some sadly are motivated by a quest for fame and fortune.  Others are motivated by an extreme desire to share knowledge.  Especially in the field of firearms instruction a diverse and intensive background should be the norm; even moreover when we are talking about Concealed Carry Permit instruction.
I started my career as an "Instructor" as a Drill Sergeant in the US Army, having been a Non-Commissioned Officer for some 8 years prior to that.  Soon after my 3 years "On the Trail" I was selected for a tryout for the Army's Action Pistol Team at the prestigious US Army Marksmanship Unit.  At about the same time, I started Advanced Performance Shooting and my journey as a competitive shooter in the United States Practical Shooting Association.  While I wasn't selected to compete for the Army, I was out virtually every weekend and travelling all over the country shooting in competition…. Some 40,000 rounds of ammunition a year for the next 10 or so years!
By 1998 APS was off and running and I was moving up in the ranks in a shooting discipline that compares to no other.  I had already been carrying a firearm for most of my adult life both as part of my job in the Army and recreationally in addition to protecting my family.  By 2001 I had achieved the rank of "Grandmaster" by shooting in the top 5% of the shooters registered in USPSA.  
Soon after starting APS, I started teaching basic and advanced firearms skills, earned my NRA Instructor rating and started designing and writing my own course material.  I have attended the US Army's Instructor Development Course and Advanced Platform Instruction.  I have received formal training regarding course design, testing and course development.  I've spent nearly 20 years as a "Professional Instructor".  After many years teaching I was identified as a Training and Doctrine Command "Master Instructor" having logged literally thousands of hours teaching.
It's safe to say that only about half of my time while I was in the Army was devoted to actual instruction, but upon retirement in 2005 I became a full time instructor.  I worked as a contractor for the Army teaching Basic Training Soldiers.  Primarily the M16 series rifle but I have taught light and heavy machine guns and handguns as well.  By 2007 I was in Afghanistan teaching everything from basic shooting skills to indirect fire support, close air support and tactical casualty care.  In 2008 I was hired as a Department of the Army Civilian to teach in the Advanced Law Enforcement Training Division with a primary responsibility of training Department of Defense Special Reaction Teams.  From 2008 until 2014 I trained literally thousands of Soldiers, Sailors, Marines and Airmen in those tasks required to successfully function as a member of hostage rescue team, from advanced marksmanship skills and tactics to planning and conducting high risk entry in less than austere conditions.   
During all of my adventures we continued to conduct classes for APS.  We have also continued to shoot competitively in both pistol as well as 3 gun (rifle, pistol and shotgun) events all over the world.  I've won many State, Area and National level events.  We have continued to design our own training programs that incorporate our life experiences, both behind the gun and on the platform.  While it certainly is true that firearms instructors come from a variety of backgrounds.  You should check the background of any potential instructor.  Especially when we are talking about potentially life changing skills, you shouldn't trust your life or spend your money on an instructor not worthy of the same.
BOOK RIGHT NOW
We offer fun and exiting firearms classeswith talented and certified instructors
Learn more